Superfund Strategies
A success story with a long tradition
Between 1991 and 1996, the first computerized Superfund trading system was developed and back tested the strategy with decades of all available historical data. Currently, three completely independent trading strategies are available: A medium to long term managed futures trend-following strategy with a track record since 1996 (Superfund Green), a systematic equity strategy that began trading in 2005 (Superfund Blue) and a short-term managed-futures strategy (Superfund Red) started on March 8, 2013.
While both managed futures trend-following and systematic equity trading strategies have been in use for over 60 years by investment professionals and institutional investors. Superfund companies pioneered in making fully automated strategies available to investors worldwide.
Systematic Equity Strategy
Potential for consistent returns in all market conditions
It was in 1949 when Alfred Winslow Jones, who graduated from Harvard University, founded a new investment approach. Jones bought individual stocks that were undervalued and sold stocks he thought were overvalued, thus benefitting from both rising and falling markets. With a track record of 34 years, only 3 of those years had recorded a loss. Similarly, protecting individual stocks positions can be efficiently accomplished by selling stock index futures.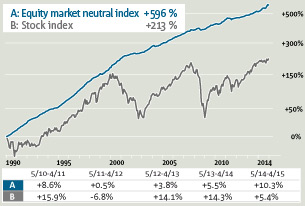 Equity Market Neutral Strategy in comparison to the stock index

The way it works
Selection of the strongest
The Superfund Blue systematic equity strategy was established in 2005. The computer trading system analyzes approximately 3,500 stocks worldwide and filters out those which have the highest statistical probability of outperforming the overall market or stocks with short-term upside potential also in periods of decreasing markets. The fund may hedge equity positions partially or completely with the respective stock index futures to reduce market risk. This trading strategy is not sensitive to market direction and therefore has the potential to profit in rising, falling, or even range-bound markets.
Example: Rising markets
Rising single stock and stock market
The single stock and the stock index are both rising. Since the stock (+4.6 %) outperforms the overall market (+3.5 % = 3.5 % loss of the equity index future), a net profit of +1.1 % is realized (Outperformance).
Example: Falling markets
Falling single stock and stock market
The single stock and the stock index are both falling. Since the stock falls less (-1.3 %) than the overall market (-3.0 % = 3.0 % gain of the equity index future), a net profit of +1.7 % is realized (Outperformance).

1) Mini S&P 500 index futures; Notice: Investments in equity market neutral strategies offer absolute returns, but at considerable risk, also a complete loss of the principal invested cannot be excluded.