GOLD & SILVER FUNDS
The best of two worlds
Superfund Green/Red Gold
The best of two worlds
By investing in Superfund Gold, you can potentially profit from one of Superfund's unique trading strategies (Green or Red), and the value of your investment will be linked to the value of, or essentially denominated in, gold.
Superfund Green/Red Silver
Precious metal – and vital raw material for industry
The Superfund Green/Red Silver funds likewise work by linking the Superfund managed futures strategy to the price of silver, a precious metal which is also in demand for industrial production.*)

PROTECTION AGAINST INFLATION
Long-term stable purchasing power
Gold and Silver are currencies not backed by debt unlike all major "paper money" currencies and can therefore act as insurance against inflation and loss of purchasing power – thus protecting your wealth. The chart below compares the purchasing power of gold, silver and the U.S. dollar. Although there have been considerable fluctuations in the value of gold and silver over this time, measured in terms of their purchasing power, there has been no long-term depreciation in value over the decades. Mounting government debt in the U.S. and the country's chronic trade deficits are increasing the pressure on the U.S. dollar. The result could potentially be a dramatic flight into gold and silver as more and more investors seek safety.

Source: Bloomberg; time period 01/1973 – 04/2015; logarithmic chart

Key advantages
Of the Superfund Gold & Silver funds
A globally unique investment
combining Superfund strategies with the price of gold or silver
Maximum long-term return opportunities
utilizing proven Superfund trading systems

The achievement of investment objectives is not guaranteed.
A safe haven in periods of uncertainty
gold and silver can offer protection against inflation and stock market downturns
Strong upside potential for the price of precious metals
due to scarce global resources and continuously rising demand
"The Superfund Gold and Silver Funds are the ideal
investments for the twenty-first century."
Christian Baha, Founder & Owner of Superfund
Gold as an investment
Over 7,000 years of tradition
Gold discoveries date back to the year 5,000 BC. Since then, gold has had a place in the value- and currency-system of human kind. Gold represents wealth, value and safety. Central banks as well as investors hold gold to protect their assets.







The gold reserves worldwide
At a glance
All the gold that has ever been mined (approximately 165,000 tons) would result in a cube with an edge length of only 20 meters. The annual production is now around 2,600 tons – decreasing annually.
Source: United States Geological Survey (3/2011)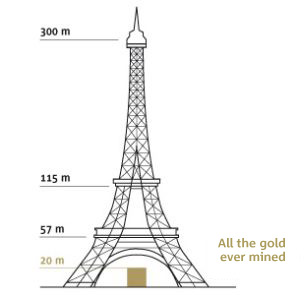 The usage
Of the valuable precious metal
About 85 percent of today's gold production is used to make jewelry and 12 percent is used in industry (electronics, medicine, optics). The remaining 3 percent ends up in the vaults of the banks.

Source: World Gold Council
Source: US Geological Survay, World Gold Council (3/2011)






THE GOLD PRODUCTION
Becomes more complex and expensive
Gold can not be manufactured artificially. And most of the available resources are in the deepest mines in the world, such as the Witwatersrand gold field in South Africa, at nearly 4,000 m deep. The mining therefore is only economical at very high gold prices.

Source: National Geographic (9/2002)
GOLD AS A STABILIZER
During an economic crisis
Especially in uncertain times, gold could increase in value. The chart below shows a comparison of high monthly losses of stocks (MSCI World Index) and the development of the price of gold in the same month.
Source: Bloomberg
"Gold still represents the ultimate form of
payment in the world …
In extremis, fiat [paper] money is accepted
by nobody and gold is always accepted."
Former Federal Reserve Chairman Alan Greenspan speaking before the U.S. Congress in 1999.
Copyright Superfund. All rights reserved. Disclaimer | Imprint
The indices and NAVs provided above are merely estimates and are updated weekly; Reported returns are net of fees and expenses, with the exception of subscription, redemption fees and taxes (if any). Updates occur on a weekly basis.
*Morningstar.at 1st place out of 58 funds in the category "Alternative Inv Systematic Trend USD " for Superfund Green Silver SICAV ranking of 3-year performance respectively as of 01.01.2022; Source: Superfund; Risk Disclosure: Past performance is not indicative for future results. The performance includes all fees in the fund (total fees 2021 until 8,59%), excluding premium and taxes. A premium of up to 4.5% reduces the return accordingly. An investment in Superfund funds has opportunities and significant risks. There is a substantial risk of loss in trading futures and options. Drawdowns of 40-60% can occur at any time and a total loss is possible. The value of shares of Superfund Green Gold will be directly affected by movements in the U.S. dollar price of gold, depreciation of the gold price will directly decrease the net asset value of Superfund gold funds. The value of shares of Superfund Green Silver will be directly affected by movements in the U.S. dollar price of silver, depreciation of the silver price will directly decrease the net asset value of Superfund Silver funds. No guarantee can be given that the total investment proceeds of Superfund gold/silver funds are always fully hedged to the current gold/silver price. No liability can be accepted for the presented information or misprints.