Superfund Green Gold SICAV
Combination of Superfund Green & Gold, minimum 20,000 USD
The Superfund Green Gold fund provides a single investment which participates not only in the Superfund Green managed futures strategy but also in price of gold. The link to the price of gold may provide protection against inflation while also enabling investors to participate in changes in the price of gold.
Inception
17.11.2014

1,000.00
Index / NAV
(10.07.2020)

1,416.77
| | |
| --- | --- |
| Minimum investment: | 20,000 USD |
Managed Futures trading strategy
All Superfund funds are based on proprietary, fully automated trading systems. Commencing in July 2010, the use of short-term trading systems was integrated into all Superfund Green funds to potentially benefit not only from medium to long-term trends but also from short-term market fluctuations. Four core principles complement each other and when combined, represent the philosophy of the proprietary Superfund Green trading systems.
Broad diversification
More security and stability
Superfund funds trade futures contracts in many different financial centers around the world. Besides financial futures such as bonds, equity indices and currencies, commodities such as natural gas, silver, corn, cocoa and cotton are also traded. This broad diversification ensures that risk is spread across many different markets which behave independently from each other and also increases the number of potentially profitable trading opportunities.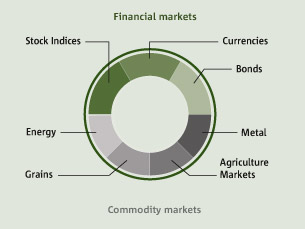 Technical analysis
Elimination of human emotions
The Superfund trading systems use a wide range of technical indicators and historical data to identify price patterns which offer a high probability of success. Based on these trends, the technical trading systems automatically issue real time buy and sell orders. Designed and programmed by Superfund experts, the fully automated trading systems remove human error from trading decisions and effectively eliminate emotional miscalculations.
Trend following
Use mass psychology
The Superfund trading systems are based on the "trend following" principle. Trends can last from a few hours to a few months, during which rising and declining price patterns are followed. The key is to recognize profitable trends and exploit the rising and falling trends in the markets. "The trend is your friend" – and when the trends run, so do the profits.
Money Management
Limit losses
Consistent money management is the most important element of the Superfund trading strategy. Risk is controlled by strictly limiting the size of individual trading positions and cutting losses early. The total risk is continuously screened on a daily basis and any losses are automatically limited by stop-loss orders.
Copyright Superfund. All rights reserved. Disclaimer | Imprint
The indices and NAVs provided above are merely estimates and are updated weekly; Reported returns are net of fees and expenses, with the exception of subscription, redemption fees and taxes (if any). Updates occur on a weekly basis.